"Hello darkness, my old friend…", wrote Paul Simon late one November night as he began penning The Sound of Silence. True, it's tinged with melancholy, but replaced with wonder and a sense of awe, he could have been standing on Wiveton Downs, gazing at the night sky. It's something readily felt on a still winter evening in North Norfolk.
The big skies of one of England's most unspoilt stretches of coast and countryside become an inky canvas for all kinds of diversions after dark. It's a little-known fact that this is one of only a handful of places in the UK from where you can witness the elusive green glow of the northern lights (or Aurora Borealis, if we're being proper). Disclaimer: it's not an everyday (or rather, every night) occurrence. But on the right night, in the right place, you might get lucky.
Two such places have even acquired 'Dark Sky' status. There's nothing remotely dubious about this accolade – it certifies that the skies above Wiveton Downs and nearby Kelling Heath, deep in North Norfolk's Area of Outstanding Natural Beauty, are some of the clearest (and therefore darkest) in the country. With so little light pollution, these swathes of heathery loveliness are both designated 'two-star' sites, where the winter Orion constellation and even the Milky Way are visible to the naked eye. So, when the northern lights aren't playing ball, at least you've something nonetheless impressive to enjoy.
This autumn only, you'll find an equally arresting (and slightly more reliable) show lighting up the North Norfolk night. Kate Moss and Her Majesty the Queen have both been muses to the man responsible – light artist Chris Levine, whose ground-breaking solo exhibition 528 Hz Love Frequency runs until 23rd December at Houghton Hall, one of Norfolk's stately home heavyweights.
Sponsored by Sotheby's, it's a spectacular sensory experience, one in which you're at once mesmerised by immersive laser and LED art installations and soothed by the meditative effects of a sound beam, emitting from an otherworldly spherical structure named Molecule of Light. Meditative it may be, but it's also an impressively menacing presence on Houghton Hall's sprawling lawns – like a looming Martian tripod from H.G. Wells' The War of the Worlds.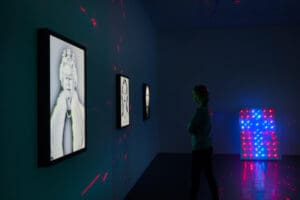 Fans of contemporary art will love Levine's iconic light portraits, including Lightness of Being – his famous depiction of the Queen on display in Houghton's south wing, but whatever your artistic preference, you'll thrill at the sheer spectacle of it all. The Harper, Houghton Hall's preferred hotel partner, has paired tickets to the exhibition with a two-night stay that includes dinner on the first night and lunch before setting out the next day – it's a scenic half hour drive from the hotel, and the exhibition is open from 4:30pm to 9pm, Thursday to Saturday.
If talk of lighting up the darkness puts you in festive mood, there's another North Norfolk event you should know about. Every November, throngs of festively minded folk converge on the otherwise sleepy village of Thursford, following not a star, but laser beams piercing the night sky. They come for what can best be described as a variety show on steroids; a Christmas spectacular of epic proportions in and around a huge museum housing the world's largest collection of steam engines and vintage fairground attractions. 'Huge' is the word – a full size fairground carousel sits snugly in one corner of the main auditorium. Featuring a cast of over 120 West End performers, the Thursford Christmas Spectacular is what makes Christmas for its multitude of devotees – and 100,000 people can't be wrong (or there at the same time – it's not that big).
11th November is the first of seven Thursford Thursdays – a deal that combines tickets for the Thursford Christmas Spectacular with a two-night stay at The Harper, a fifteen-minute drive away. A three-course dinner on Wednesday evening, and lunch before the Thursday show, are also included.
Back on Kelling Heath, dark skies don't come with laser beams or elevated orbs (unless you count the moon), but they do attract a growing community of stargazers as autumn segues into winter. Many of them attend the WinterFest Astro Star Party (who knew?), a chilled affair (probably quite literally) for aspiring astronomers celebrating the celestial in a beautiful, secluded setting.
Those same skies look just as alluring – if not quite as dark – from beneath a canopy of lights, beside a blazing fire pit. Log burners dot The Yard at The Harper, keeping things suitably cosy for al fresco evenings, even in late autumn (there's one inside, too, for less outdoorsy types, where the beams overhead are of the oak variety).
So, as clocks change and nights lengthen, we'll be raising a glass or two to our old friend darkness. After all, there's so much to see when it's dark.